Transportation provides essential access in our region – to medical care, employment, education, community services, and more. That's why MetroPlan Orlando uses public opinion research to understand the needs of those who travel in Orange, Osceola, and Seminole counties.
2021 REGIONAL TRANSPORTATION SURVEY report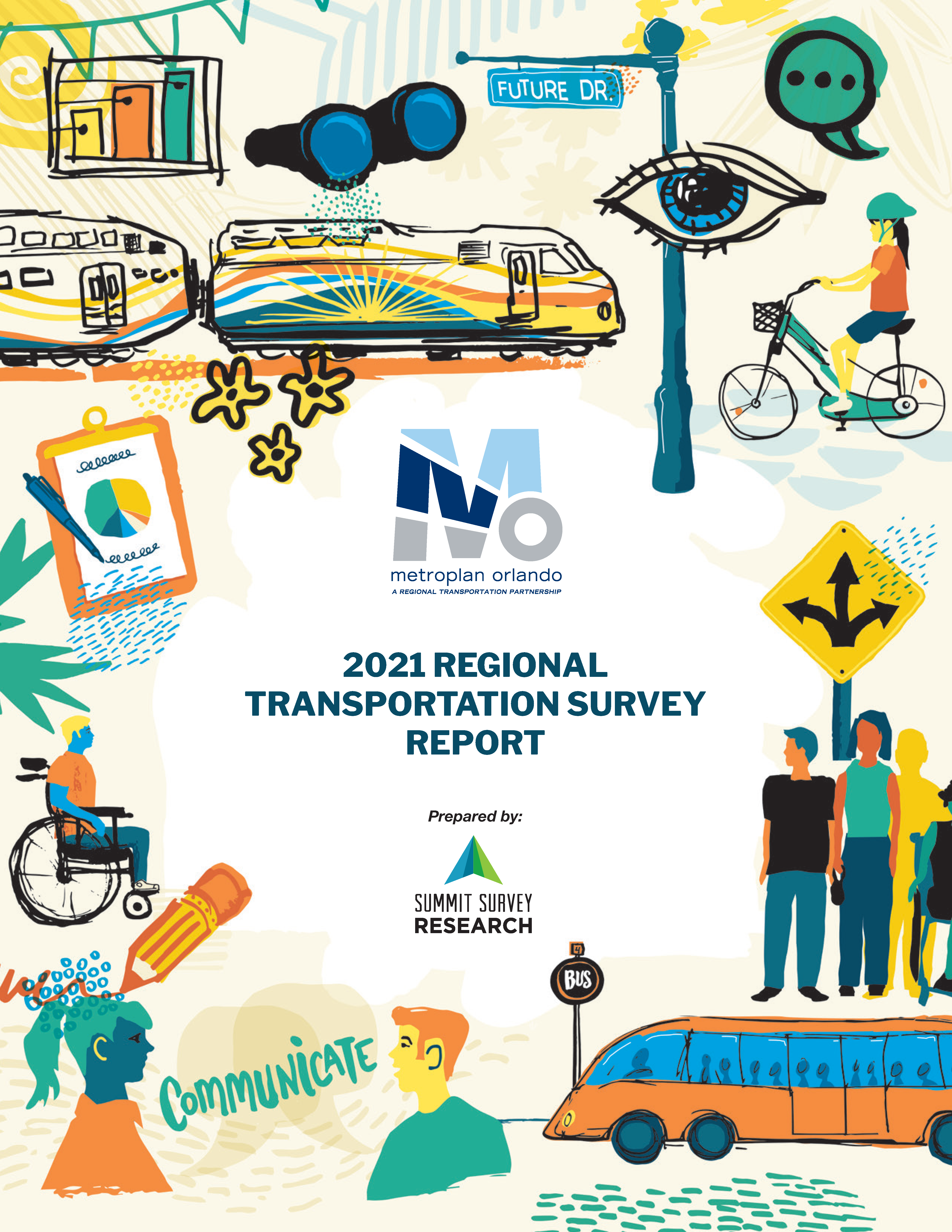 The 2021 Regional Transportation Survey Report shares fascinating findings from a survey of 3,055 Central Floridians on a variety of topics, including:
Transportation Use & Challenges – Respondents were asked how they get around and the difficulties they may have using various types of transportation, including driving, walking, bicycling, LYNX bus, SunRail, ACCESS LYNX, rideshare, wheelchairs, and scooters.
Safety – The report includes surprising statistics on distracted driving, speeding, and opinions of 'risky drivers.' It also measured driver and pedestrian awareness of pedestrian hybrid beacons and rectangular rapid flashing beacons.
Public Transportation – The report explores transit challenges and opportunities, including what improvements Central Floridians said they would like to see on the public transportation system.
Equity – The survey asked respondents to share what 'transportation equity' means to them.
Technology – For the first time, we surveyed Central Floridians on their opinions of driverless (automated) vehicles and electric vehicles, including preferences for how they'd like to travel in the future.
Transportation Funding – Respondents were asked whether improving transportation would mean increasing taxes and fees, and their opinions on mileage-based user fees.
We encourage you to read every page of this data-rich report. Don't worry – there are less than 30 pages of actual report, all with visually-appealing graphics. The rest is back-up information in the appendix.
2021 Regional Transportation Survey Report
2021 report: FIVE SURPRISING FINDINGS
Some surprising findings from the report include:
Over half (56%) of Central Florida residents rate the Central Florida transportation system as average (it "serves some travelers"), or lower (poor or failing). The remaining 44% feel the system is great and serves all travelers equally well or is pretty good and serves most travelers adequately.
Nearly one in five (19%) respondents report going 10, 15, 20, or even 25 mph over the speed limit most of the time while driving.
Nearly one in five (18%) respondents had skipped or missed a doctor's appointment in the past year because they did not have reliable transportation. Transit riders have missed doctor's appointments three times more often than non-transit riders.
People are open to new technology, including driverless vehicles and electric cars. There are few stark differences across groups, which speaks to the growing comfort with new technology of all transportation users.
Continued support for increases in taxes, fees, or both to improve Central Florida's transportation system is coupled with a general gap in knowledge about transportation funding. There is a lack of awareness that improvements in gas efficiency lead to fewer funds collected through federal and state gas taxes.
Questions? Contact Us
If you have questions about our 2021 transportation survey results, please contact Cynthia Lambert, MetroPlan Orlando public information manager, at Cynthia.Lambert@MetroPlanOrlando.gov. Our 2021 research was conducted in association with Summit Survey Research.
public opinion Research Archive
Visit our archive to view public opinion research reports from previous years.