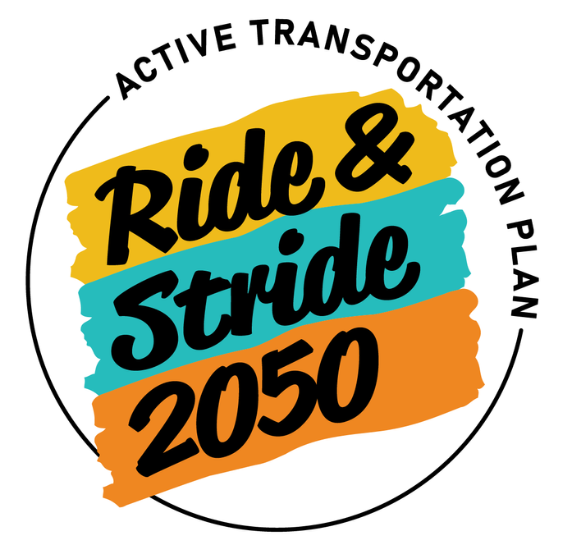 En Español
Your Input matters!
Thanks to everyone who provided feedback on their experiences walking and bicycling within the region. We combined that feedback along with the technical analysis to help identify potential facilities to include in the Active Transportation Plan.
The draft 2050 network is provided below where you can leave your feedback on the comment map. Draft planning documents that helped to inform this network are linked below as well. A draft plan will be available for review in December.

Plan Goals

Our Active Transportation Plan: Ride & Stride 2050, will identify infrastructure, policies, and processes based on public and stakeholder input to encourage physical activity. We want to:
Make it safer for people to walk and bike in their communities and improve access to transit facilities.
Identify feasible projects that can be constructed and determine prioritization criteria to aid in the development of the 2050 Metropolitan Transportation Plan (our next long-range plan).
Provide realistic, non-automobile travel options for our residents and visitors to reduce reliance on automobiles for access to work, school, shopping, and healthcare.
Sign Up for Emails to Track Plan Progress
Want to keep up with the development of the Active Transportation Plan and learn of opportunities to provide input? Sign up below to receive email updates on this study.

Study Partners and Timing
MetroPlan Orlando is leading the Active Transportation Plan in partnership with our local government partners in Orange, Osceola, and Seminole Counties. We have been coordinating with community members, agencies, businesses, and government entities throughout our 15-month schedule (October 2022 through December 2023) to guide project goals, review preliminary project concepts, and share information about the study.
Key Project Milestones
Existing Conditions Assessment (October 2022 – February 2023)

Assessment of the existing and future levels of comfort and accessibility for active transportation modes based on the existing and planned bicycle and pedestrian networks. 
Public Engagement #1 (January 2023 – March 2023) 
Help us identify where you want more walking and bicycling facilities by March 10, 2023. 
Regional Bicycle and Pedestrian System Planning (March 2023 – August 2023) 
Based on opportunities identified in the existing conditions assessment, and feedback from the public, develop preliminary regional network improvements. 
Public Engagement #2 (October 2023) 
Obtain feedback on the preliminary regional networks to incorporate into the draft Active Transportation Plan. 
Draft Active Transportation Plan (December 2023)
Public review draft of the Active Transportation Plan available.
Final Active Transportation Plan (January 2024) 
Final draft of Active Transportation Plan presented to MetroPlan Orlando Board for action.
PROJECT DOCUMENTS
We have been working hard to identify infrastructure, policies, and processes to expand and improve active transportation throughout the region. In this section, you'll see the progress we've made so far. As more components of the Active Transportation Plan take shape, we will update this section with more resources.
Existing Conditions Technical Report
This report takes a look at the existing active transportation conditions around our region. This includes policy documents currently adopted by local partners, existing bicycle and pedestrian infrastructure, an overview of the region, and much more. You can also find the methodologies for our Bicycle Level of Traffic Stress (LTS) and Pedestrian Level of Comfort (PLOC) Analyses here.
Existing Technical Conditions Report
Existing Conditions Technical Report Appendix
ATP Strategies Toolbox
Part of the ATP final report will be a list of proposed projects to improve and expand the active transportation network. The ATP Strategies Toolbox lists possible improvement strategies and techniques that can be used in this process.
Facility Type Definitions 
This handout serves as a quick reference guide to the different types of active transportation facilities that exist throughout the region. These facility types and reference figures are also included in the Existing Conditions Report. 
Active Transportation Facility Types
Policy Memorandum
Provides details related to proposed new policies that will be included in the plan.   
Staff Contact
For more information, contact:
Taylor Laurent, PE, AICP
MetroPlan Orlando | Project Manager
(407) 481-5672, Ext. 306
Taylor.Laurent@MetroPlanOrlando.gov
**
En Español
¡SU APORTE ES IMPORTANTE! 

 
Gracias a todos los que brindaron comentarios sobre sus experiencias caminando y andando en bicicleta en la región. Estamos tomando esos comentarios junto con el análisis técnico para ayudar a identificar posibles instalaciones para incluir en el Plan de Transporte Activo.  
La red preliminar 2050 se proporciona a continuación, allí encontrará un mapa donde puede dejar sus comentarios. Los documentos preliminares de planificación que ayudaron a identificar la red preliminar también están disponibles a continuación. El plan preliminar estará disponible para su revisión en diciembre.  
Los Objetivos del Plan
Nuestro Plan de Transporte Activo: Ride & Stride 2050, identificará la infraestructura, las políticas y los procesos necesarios para fomentar la actividad física, basados en los aportes del público y de organizaciones interesadas. Queremos:
Haz que sea más seguro para que las personas puedan caminar y andar en bicicleta en sus comunidades y mejorar el acceso al tránsito público.
Identificar proyectos que se pueden construir y determinar criterios de priorización para ayudar en el desarrollo del Plan de Transporte Metropolitano 2050.
Proporcionar opciones realistas de viaje sin automóviles para nuestros residentes y visitantes a fin de reducir la dependencia de los automóviles para que las personas tengan acceso al trabajo, la escuela, las compras y la atención médica.
Regístrese Para Seguir el Progreso del Plan por Correo Electrónico
¿Quiere mantenerse al día con el desarrollo del Plan de Transporte Activo y conocer las oportunidades para brindar su opinión? Regístrese a continuación para recibir actualizaciones por correo electrónico sobre este estudio.
Socios Y Calendario
MetroPlan Orlando está liderando el estudio en asociación con nuestros socios gubernamentales en los condados de Orange, Osceola y Seminole. Coordinaremos con miembros de la comunidad, agencias, empresas y entidades gubernamentales a lo largo de nuestro programa de 15 meses (octubre de 2022 a diciembre de 2023) para guiar los objetivos del proyecto, revisar los conceptos preliminares del proyecto y compartir información sobre el estudio.
Hiltos Claves
Evaluación de las Condiciones Existentes (Octubre 2022 – Febrero 2023)
Evaluación de los niveles de comodidad y accesibilidad existentes y futuros para los modos de transporte activos en base a las redes existentes y planificadas.
Participación del Publico #1 (Enero 2023 – Marzo 2023)
Ayúdenos a identificar dónde desea más instalaciones para caminar y andar en bicicleta respondiendo una encuesta y dejando comentarios en nuestro mapa interactivo antes del 10 de marzo.
Planificación del Sistema Regional de Bicicletas y Peatones (Enero 2023 – Mayo 2023)
Desarrollar mejoras preliminares de la red regional con base en las oportunidades y limitaciones identificadas en la evaluación de las condiciones existentes.
Participación del Publico #2 (Agosto 2023 – Septiembre 2023)
Obtener comentarios sobre las redes regionales preliminares para incorporar en el Plan Preliminar.
Plan Final (Octubre 2023 – Diciembre 2023)
Incorporación de los comentarios para desarrollar el Plan de Transporte Activo final.
Plan de Transporte Activo Preliminar (Diciembre 2023)  
Revisión pública del Plan de Transporte Activo preliminar.  
Plan Final de Transporte Activo (Enero 2024)   
El Plan de Transporte Activo final se presentará a la Junta de MetroPlan Orlando para tomar acción.  
DOCUMENTOS DEL PROYECTO
Hemos estado trabajando arduamente para identificar mejoras a la infraestructura, políticas y procesos para expandir el transporte activo en toda la región. En esta sección, podrá ver el progreso que hemos logrado. A medida que más componentes del Plan de Transporte Activo tomen forma, actualizaremos esta sección para incluir más recursos.
Informe Técnico de Condiciones Existentes
Este informe analiza las condiciones existentes de transporte activo en nuestra región. Incluye políticas actualmente adoptadas por gobiernos locales, infraestructura existente para bicicletas y peatones, una perspectiva general de la región y mucho más. También puede encontrar la metodología utilizada para nuestro análisis de nivel de estrés de tráfico (LTS) y nivel de confort de peatones (PLOC).
Caja de Herramientas de Estrategias ATP
Como parte del informe final del Plan de Transporte Activo, se incluirá una lista de proyectos propuestos para mejorar y expandir la red de transporte activo. La Caja de Herramientas de Estrategias ATP enumera posibles estrategias y técnicas que se pueden utilizar en este proceso.
Definición de Tipos de Instalaciones    
Este folleto sirve como una guía de referencia rápida donde se explica los diferentes tipos de instalaciones de transporte activo que existen en toda la región. Estos tipos de instalaciones y respectivas referencias también se incluyen en el Informe de Condiciones Existentes.   
Memorándum de Normas   
Proporciona detalles relacionados con nuevas normas propuestas en el plan.  
Persona de contacto
Para obtener más información, contacte:
Cynthia Lambert, APR
MetroPlan Orlando | Public Information Manager
(407) 481-5672 Ext. 320
Cynthia.Lambert@MetroPlanOrlando.gov