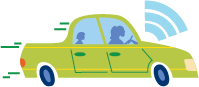 As Central Florida's transportation system matures, it's important to make the most of the system we have. Often, that means using Transportation System Management & Operations strategies – called TSMO (pronounced "tizmo") for short. These types of projects help us get the most bang for our buck by using technology and low-cost design treatments to alleviate congestion, resulting in better system performance.
TSMO Master Plan
MetroPlan Orlando is developing a TSMO master plan for the year 2050 to define and prioritize low-cost solutions that can maintain and improve the transportation system. The process includes coordinating with various agencies on their TSMO efforts to create a unified, regional approach. Learn more about the TSMO Master Plan here.
TSMO Collaboration in Central Florida & Beyond
MetroPlan Orlando has a long track record of championing TSMO in transportation planning. Our organization first devoted an entire position to TSMO planning and coordination in 2004.
Partnering on TSMO Through A Dedicated Advisory Committee
In 2015, MetroPlan Orlando formed the Transportation System Management & Operations advisory committee to advance TSMO efforts in our three-county area (Orange, Osceola and Seminole counties). The committee includes planning and engineering experts from more than 30 federal, state, regional and local agencies. Learn more about the TSMO advisory committee in our board and committee section.
Additionally, we eagerly support our partners' TSMO efforts. Examples include:
Regional TSMO Organizational Strategic Plan
MetroPlan Orlando also works to advance coordination and planning of TSMO strategies in our wider 13-county mega-region, recognizing that moving people, goods and services across county lines presents challenges. We manage a regional TSMO program involving nine metropolitan planning organizations (MPOs) with these goals:
Enhancing the role and presence of TSMO as a strategic consideration in meeting mobility demands and safety concerns; and
Cultivating a culture at the MPOs to enable a methodology for developing TSMO projects.
The group is working on a Regional Transportation System Management and Operations (TSMO) organizational strategic plan, which will provide an organizational structure, establish goals/objectives for the program, assess strengths and opportunities,and suggest a strategic framework for regional initiatives. The creation of the Regional TSMO organizational strategic plan began in August 2023 and will be complete in December 2024.
Examples of TSMO Projects
According to the Federal Highway Administration's TSMO page, these are some examples of projects that fall under the Transportation System Management and Operations umbrella:
Work Zone Management
Traffic Incident Management
Special Event Management
Road Weather Management
Transit Management
Freight Management
Traffic Signal Coordination
Traveler Information
Ramp Management
Congestion Pricing
Active Transportation and Demand Management
Integrated Corridor Management
Access Management
Improved Bicycle and Pedestrian Crossings
Connected and Automated Vehicle Deployment
Mobility on Demand
Reducing Trips & Managing Transportation Demand

If you look around while on the road, you'll notice that many of the vehicles around you only have a driver in it. Transportation planners call this a single-occupancy vehicle. One way to reduce congestion is by eliminating as many of these single-occupancy vehicle trips as possible, a concept known as transportation demand management.
How can you get around if you leave the car at home or if you don't have a car? There are several options. Some find that public transportation, such as riding the bus or train, works for them. Others walk or bike to nearby places. Some can arrange to work from home. Others participate in carpooling or vanpooling.
You can explore options to driving alone by reaching out to reThink Your Commute, a program from the Florida Department of Transportation that assists commuters and employers with finding the right alternatives for them. To learn more, visit the reThink website here.
Past MetroPlan Orlando TSMO Work
Learn more about some of MetroPlan Orlando's past TSMO work here:
Staff Contact
Questions about MetroPlan Orlando's TSMO program? Contact Eric Hill, our director of transportation system management and operations, at ehill@metroplanorlando.gov or 407-481-5672 x316.