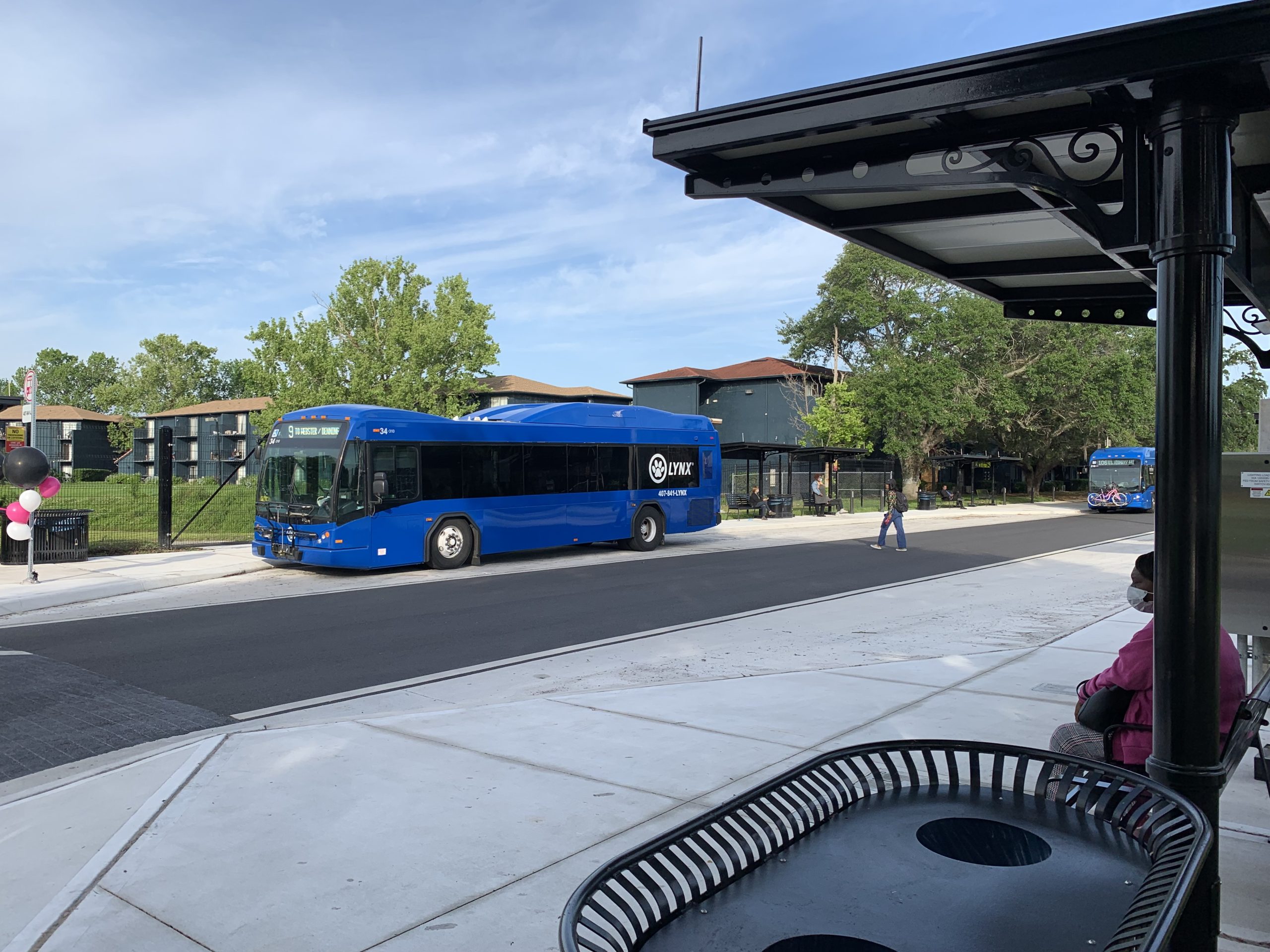 Central Florida's residents and tourists need a full set of transportation options to move around the region, and transit plays an important part. MetroPlan Orlando, as the region's metropolitan planning organization, supports numerous transit activities in Central Florida and across the state.
Transit – also called public transportation – has many benefits whether you ride or not. Riders can enjoy the opportunity to avoid the stress of driving, save money, and increase physical activity, among other things. Non-riders or people who only use transit occasionally can appreciate the fewer numbers of cars on the road. Everyone benefits from the improved air quality that sharing the ride brings. Transit fits well with MetroPlan Orlando's Health & Transportation initiatives and with our air-quality and other environmental goals.
LYNX Bus Service
LYNX is Central Florida's regional transit authority. Serving the same planning area as MetroPlan Orlando, the agencies coordinate on several issues, including planning, funding, and transportation disadvantaged needs.
LYNX offers multiple services including:
• Local fixed route bus service
• FastLink – Express service along specific corridors
• NeighborLink – Flexible, on-demand service in less-populated areas
• ACCESS LYNX – door-to-door service for people who are not able to use regular fixed route service due to a disability or other limitations
• LYMMO – Bus Rapid Transit service in downtown Orlando
• Vanpool – shared vans among people with a similar commute and travel patterns
More information about regional bus service is available at the LYNX website.
Current Areas for LYNX and MetroPlan Orlando coordination include:
Access LYNX service, which is evaluated by the Transportation Disadvantaged Local Coordinating Board
Transit Asset Management – A federal rule that calls for transit agencies to keep capital assets in good repair
Transit Development Plan – A 10-year needs-based evaluation required by the Florida Department of Transportation (FDOT) to qualify for state funding. Find out more.
Review and monitoring of the region's Surface Transportation Program funds allocated to LYNX
sunrail: commuter rail service
In 2014, regional passenger rail service in Central Florida became a reality. SunRail now operates for 49 miles between DeBary in Volusia County and the Poinciana area in Osceola County. The Phase 2 Northern Expansion to DeLand is expected to open by summer 2024.
Several thousand people use SunRail each day. SunRail runs Monday through Friday, with trains scheduled at every half-hour in the morning and the evening and less frequently during midday. The train does not operate on holidays or weekends, because of  a lack of funding to cover those operations. Check out schedules at the SunRail website. SunRail is currently operated by the Florida Dept. of Transportation, but authority is expected to transfer to local jurisdictions in the near future.
Current areas for SunRail and MetroPlan Orlando coordination include:
SunRail Technical Advisory Committee – A forum where MetroPlan Orlando, along with representatives from local governments, serve as a conduit between SunRail and local governments along the SunRail route
Transit Asset Management – A federal rule that calls for transit agencies to keep capital assets in good repair
BRIGHTLINE & the FUTURE of HIGH-SPEED RAIL
Brightline is high-speed rail that currently operates in South Florday, including Miami, Fort Lauderdale, and West Palm Beach. The privately run intercity rail will connect to Orlando at the South Terminal in the Orlando International Airport (MCO) as a part of its expansion to Central Florida. This connection is set to open to customers in Fall 2023. Plans for a Tampa extension are currently under discussion.
For more information about Brightline, visit their website.
OTHER transportation PROVIDERS
I-RIDE Trolley
Operating along International Drive, the I-RIDE Trolley provides daily service from 8:00 am to 10:30 pm. The Trolley has two lines and makes stops at key destinations such as the Orlando Premium Outlets, Icon Park, and SeaWorld.
For ticketing, maps, and more, visit the I-RIDE Trolley webpage.
Sanford Trolley
The City of Sanford's Community Redevelopment Agency provides a free downtown trolley service. The Sanford Trolley travels from the Sanford SunRail Station to several downtown Sanford stops. The Sanford Trolley operates Monday through Saturday from 12:00 pm to 8:15 pm.
For the map and schedule, visit the Sanford Trolley's webpage.
BEEP SHUTTLES
Beep is an all-electric, autonomous shuttle service that connects residential, commercial, retail, recreational, and medical services across the Central Florida region. Check out Beep's website for more information.
Move Nona – The alternative mobility network operates within a 17-square-mile development in Lake Nona. The Move Nona service is currently the largest and longest autonomous vehicle network in North America. The Beep network in Lake Nona consists of five routes and eight shuttles connecting nearly ten key destinations. More information is available here.
CraneRIDES – Altamonte Springs' autonomous shuttle pilot uses two vehicles on a fixed route to connect riders to popular shopping and recreation destinations. These include Altamonte Mall, Renaissance Centre, Cranes Roost, and AMC Theatre. Information about schedules and routes is on the city's website.
SWAN Shuttle – A City of Orlando pilot program has brought a Beep shuttle to the Creative Village area of downtown. (SWAN stand for Shuttling With Autonomous Navigation.) The service will operate two vehicles on a portion of  LYNX's existing LYMMO Orange Line. Find out details on the LYNX website.
transit studies & documents
Read about the work MetroPlan Orlando did with Florida State University on Transit-Oriented Development and SunRail.
SunRail TOD Report FINAL 11-18
See more transit documents and studies in our Archive.