Apply to Join Community Advisory Committee by Feb. 10
Posted on: January 17, 2023 in MetroPlan Orlando Advisory Committees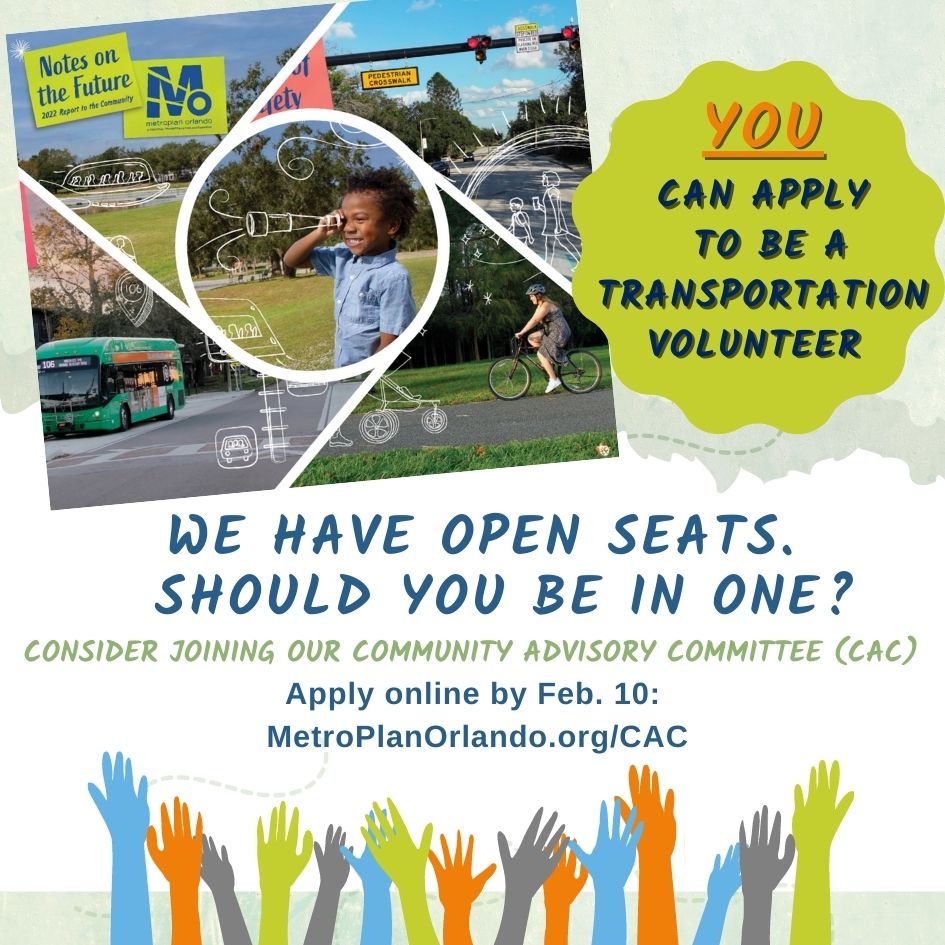 Are you interested in transportation planning and looking for a way to get more involved? MetroPlan Orlando is taking applications for new members on the Community Advisory Committee through Feb. 10
People in these volunteer positions attend regular meetings and have materials to read and evaluate in between meetings. Prospective members need to complete an application form available at: MetroPlanOrlando/CAC
We are accepting applications for voting and alternate seats on the CAC. This committee provides citizen input to the transportation planning process and strives to reflect the diversity of Central Florida. The committee is structured to include representatives from across the transportation spectrum. Find out more about the Community Advisory Committee here.
Potential members should meet the following requirements:
• Be interested in various modes of transportation (including, but not limited to, private motor vehicles, bicycling, walking, freight, bus and rail)
• Reside in Orange, Osceola or Seminole counties
• NOT work in the transportation industry
• NOT be serving as elected officials
How to Apply
Applying to join the committee is easy. Just fill out the application at MetroPlanOrlando.gov/CAC, and tell us why you're interested.
Applications can be submitted online or can be mailed to: MetroPlan Orlando, ATTN: CAC Application, 250 South Orange Avenue, Suite 200, Orlando, FL 32801. All applications will be reviewed by a panel, which will make recommendations to the MetroPlan Orlando Board for official appointments. The deadline for applications is Feb. 10, 2023.
Questions? Contact Mary Ann Horne, Community Outreach Strategist at MaryAnn.Horne@MetroPlanOrlando.gov.