Our Transportation Youth Activity Books Are A Hit
Posted on: March 12, 2020 in Metropolitan Transportation Plan (MTP), Public Involvement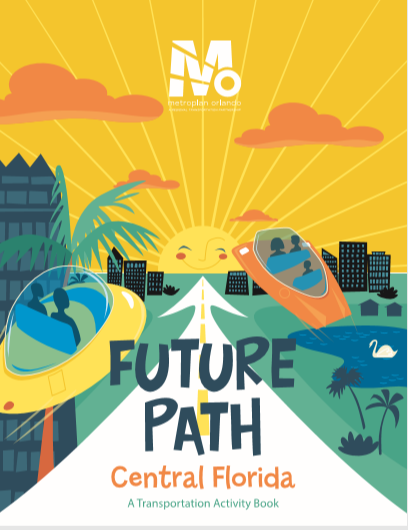 Planning the future and looking at ways to move people around the region takes a lot of discussion, and that includes input from our youngest Central Floridians. When we engage with kids, we hear some of the most innovative suggestions – such as flying bikes, jetpacks, and "wall-climbing boots" – for travel in the year 2045.
In addition to collecting these creative thoughts, we engage young people with a new hands-on element to public outreach — our transportation youth activity books. The books highlight our region in Orange, Osceola and Seminole counties and offer unique insights for children who live and play in our communities.
The bright-colored activity books teach kids about many transportation topics, including bike and pedestrian safety, offering tips on what clothing/ gear to wear or avoid. Scooter and skateboard safety are important as well, and the books lists ways to check that these items are in good condition before using them.
Kids have opinions and ideas, and we are eager to hear them! They are invited to help make a better 2045 Plan by filling in a letter that outlines their transportation choices and ideas.
Our transportation youth activity books, which are geared toward elementary school students, have proved popular. If you would like some for your children or to share with a group, we will provide them free of charge.
Please contact us at MTP@MetroPlanOrlando.gov