How Are We Doing? Be Part of Our Federal Certification with USDOT
Posted on: March 1, 2023 in Public Meetings
Share your comments on Central Florida's transportation planning process with representatives from the U.S. Department of Transportation at a public meeting on 3/15.
Every four years, MetroPlan Orlando undergoes a mandatory federal certification with representatives from the Federal Highway and Federal Transit administrations. A team representing these USDOT agencies will visit March 15, 2023 to confirm we are following transportation planning laws and regulations.
How To Comment
As part of the certification process, a hybrid public meeting will be held on March 15, 2023 at 9 a.m. You can participate in person at the MetroPlan Orlando office (250 S. Orange Ave., Suite 200, Orlando, FL 32801) or virtually through Zoom (click here to join meeting or view calendar listing for full Zoom information).
We welcome input on transportation policies and MetroPlan Orlando's planning work. Comments will be taken into consideration by the federal team in the certification review report.
You can comment at the public meeting in two ways:
In person at the MetroPlan Orlando office
Virtually through Zoom
Can't make it to the public meeting? You can submit written comments through April 14 in two ways:
Via email to comment@metroplanorlando.gov
Directly to the federal team via their website: https://www.fhwa.dot.gov/fldiv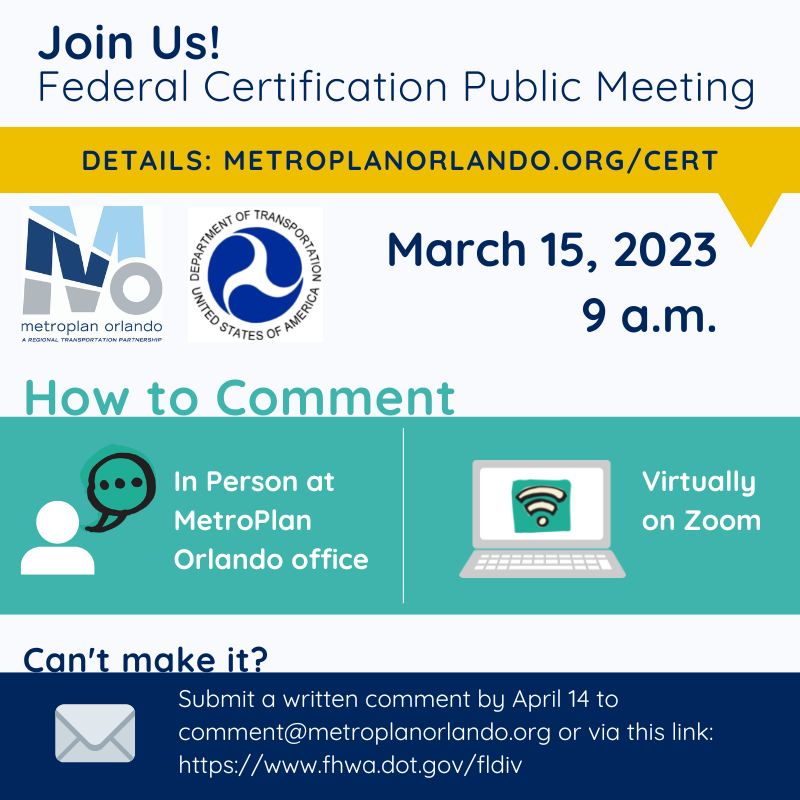 Questions?
Contact any of the people below.
Cynthia Lambert, Public Information Manager at MetroPlan Orlando
407-481-5672 x320  |  Cynthia.Lambert@MetroPlanOrlando.gov
Joseph P. Sullivan, Environmental Protection Specialist at Federal Highway Administration (FHWA) – Florida Division
850-553-2248  |  Joseph.Sullivan@dot.gov
Aviance Webb, Community Planner at Federal Transit Administration (FTA) Region 4, Atlanta, GA
404-865-5489  |  Aviance.webb@dot.gov
Need Accommodations to Participate?
Public participation is conducted without regard to race, color, national origin, sex, age, disability, religion, or family status. Persons wishing to express concerns, who require special assistance under the Americans with Disabilities Act, or who require language services (free of charge) should contact MetroPlan Orlando by phone or email at least three days prior to the event: Lisa Smith, Lisa.Smith@MetroPlanOrlando.gov, 407-481-5672 x307
La participación pública se lleva a cabo sin distinción de raza, color, origen nacional, sexo, edad, discapacidad, religión o estado familiar. Las personas que deseen expresar inquietudes, que requieran asistencia especial bajo la Ley de Americanos con Discapacidad (ADA) o que requieran servicios de traducción (sin cargo) deben ponerse en contacto con MetroPlan Orlando por teléfono o por correo electrónico por lo menos tres días antes del evento: Lisa Smith, Lisa.Smith@MetroPlanOrlando.gov, 407-481-5672 x307