Central Florida's Pedestrian Safety Efforts Show Results — and Leave Much to Do
Posted on: January 10, 2017 in Safety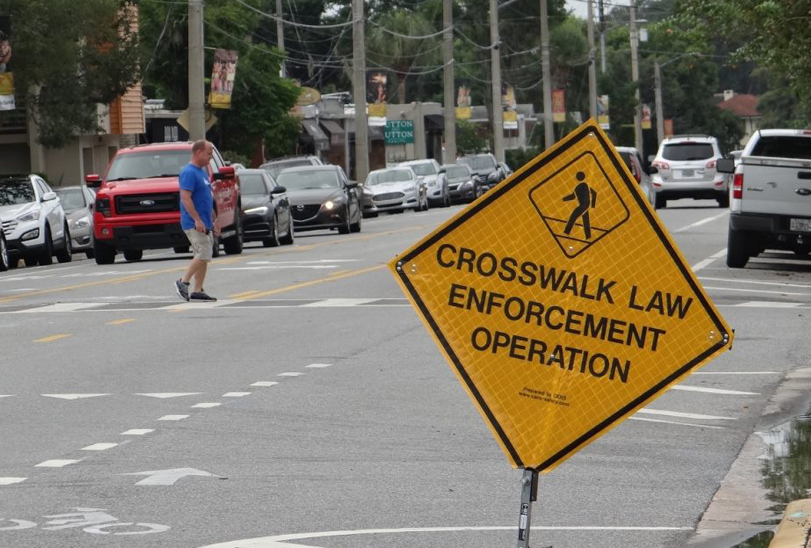 Pedestrian safety has been a priority among transportation partners in Central Florida for several years, and these efforts have started moving results in the right direction. While there is much more work to be done, the region remains dedicated to improving conditions for walking.
The latest edition of a report that ranks pedestrian safety in more than 100 U.S. metro areas puts the Orlando-Kissimmee-Sanford area as the third most dangerous, behind two other Florida metros — Cape Coral-Fort Myers and Palm Bay-Melbourne-Titusville. Previous editions of the report — Dangerous by Design, issued in 2009, 2011 and 2014 by Smart Growth America — ranked our area at the top of that list.
The report uses a "Pedestrian Danger Index" for its ranking. The formula includes total pedestrian fatalities, annual pedestrian fatalities per 100,000 population, and percent of commuters who walk to work. The top seven metro areas listed in the index rankings are all in Florida.
Our region has steadily reduced it Pedestrian Danger Index score. Since the last report, we improved the most in Florida and fifth most in the country.
Safety for pedestrians is a complex issue with many contributing factors, which means there is no easy solution. The region will continue to tackle the problem with the same strategy that has promoted our successes since 2012. We call this the Triple E approach, because it attacks the problem from three important angles — Engineering, Enforcement, and Education.
To continue making streets safer for pedestrians, all Central Floridians need to engage in the effort. Both drivers and pedestrians should increase attention to safety. High speeds and distracted driving contribute significantly to the problem, as well. In short, it's up to all of us to do a better job of looking out for each other.
The attached fact sheet contains more specifics on transportation partners' efforts throughout the region to make Central Florida a better place to walk.