Region Receives $3.79 Million to Improve Transportation Safety
Posted on: February 1, 2023 in Complete Streets, Safety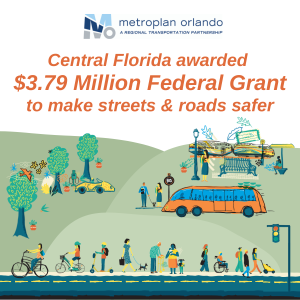 MetroPlan Orlando, along with its government partners, has been awarded a $3.79 million federal grant, under the 2022 Safe Streets and Roads for All Action Plan program. The money will be used to develop Vision Zero Safety Action Plans throughout Orange, Osceola, and Seminole counties – working toward the ultimate goal of zero deaths and serious injuries on the region's roads.
The focus will be on working collaboratively with the three counties and 22 municipalities in Central Florida to create a comprehensive Vision Zero Safety Action Plan, including action plans tailored for each local jurisdiction. All the local government partners were joint applicants for the grant, except the City of Orlando, which already has a qualified action plan.
"We are very pleased to receive the Safe Streets and Roads for All grant," said Gary Huttmann, MetroPlan Orlando Executive Director. "Local leaders are committed to making our streets and roads safer, and this funding will be another valuable tool in our regional effort. We all know the safety issues in Central Florida cannot get better without significant intervention and investment."
The plans will draw on four key strategies:
• Low-Cost, High-Impact Solutions: MetroPlan Orlando and its partners are currently identifying roads with safety issues, where changes in designs and speeds could help reduce crashes. The action plans will draw on this data to spotlight low-cost improvements that will yield significant results.
• Engagement: Community engagement will be a significant part of the plans, with a particular focus on historically disadvantaged residents. The plans will seek to engage communities that have often been left out of conversations on transportation and safety.
• Innovation: The individual and regional plans will use the safe system approach to examine the total safety picture across the region. Data and innovative engineering strategies can be used along with demonstration projects to gather additional information.
• Evidence-Based Projects: A data-driven approach will combine land use, transportation, and demographic information to identify projects likely to provide the best relief from unsafe situations.
Safety in Central Florida
MetroPlan Orlando's three-county area is home to more than 2 million people, with almost a million new residents expected to arrive during the next 25 years. In addition, more than 75 million visitors come to the region each year.
A total of 361,633 crashes occurred on Central Florida's roads from 2016-2020, resulting in 1,396 deaths. About 65% of the fatal crashes occurred in historically disadvantaged areas, which is why the new actions plans will spotlight these areas for improvement. About 32% of the crashes involved pedestrians and cyclists, and the action plans will focus on making all areas safer for this type of travel.
For more information about safety in Central Florida see the story map created to accompany the Safe Streets and Roads for All application at: MetroPlanOrlando.gov/ss4a22
About the Grant Process
MetroPlan Orlando will be working during the spring and summer on a grant agreement with the federal government through the Federal Highway Administration (FHWA), which must be executed before work can begin on the project.
The $5 billion, five-year Safe Streets and Roads for All Action Plan Grant program was established by the Bipartisan Infrastructure Law and is administered by the U.S. Dept. of Transportation. This first round of awards provides $800 million for 510 projects throughout the country.
Learn more about the grant program and first-round recipients here: https://www.transportation.gov/grants/SS4A