Safety of Pedestrians Continues to be Critical Concern for Central Florida
Posted on: May 20, 2014 in Safety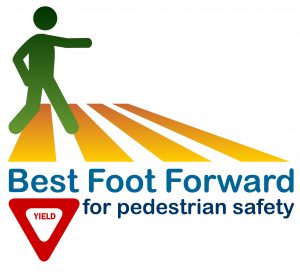 A new report citing dangerous conditions for pedestrians in Central Florida underscores the importance of pedestrian safety efforts across the region.
Dangerous by Design ranks metropolitan areas with populations of more than 1 million people by a Pedestrian Danger Index and by the share of total traffic fatalities who are pedestrians. The report is published by the National Complete Streets Coalition, a program of Smart Growth America.
It was last published in 2011, when the Orlando-Kissimmee metro area was ranked as the most dangerous in the nation, based on data from 2000-2009. In the 2014 report, Central Florida again ranks as the most dangerous area for pedestrians based on data collected from 2003-2012.
Central Florida's leaders are aware of the pedestrian safety issue and are committed to improving the situation. In June of 2012, a community-wide coalition called Best Foot Forward was formed to reverse the pedestrian death and injury trend. The goal of this group is to cut pedestrian deaths and injuries in half in its first five years. Best Foot Forward seeks to change driver and pedestrian behavior through its Triple E operational program of Education, Engineering and Enforcement.
MetroPlan Orlando, as the region's long range transportation planning agency, is dedicated to improving pedestrian safety as part of its ongoing bike and pedestrian program and to supporting the work of Best Foot Forward.
MetroPlan Orlando's Pedestrian Safety Action Plan addresses a variety of issues including lighting, signage, and behavioral changes that are needed to improve the safety of pedestrians. See the plan here.
To find out more about the work of pedestrian safety advocates Best Foot Forward, visit the group's website.