MetroPlan Orlando Accepting Applications for Transportation Disadvantaged Group
Posted on: September 12, 2022 in Public Involvement, Transportation Disadvantaged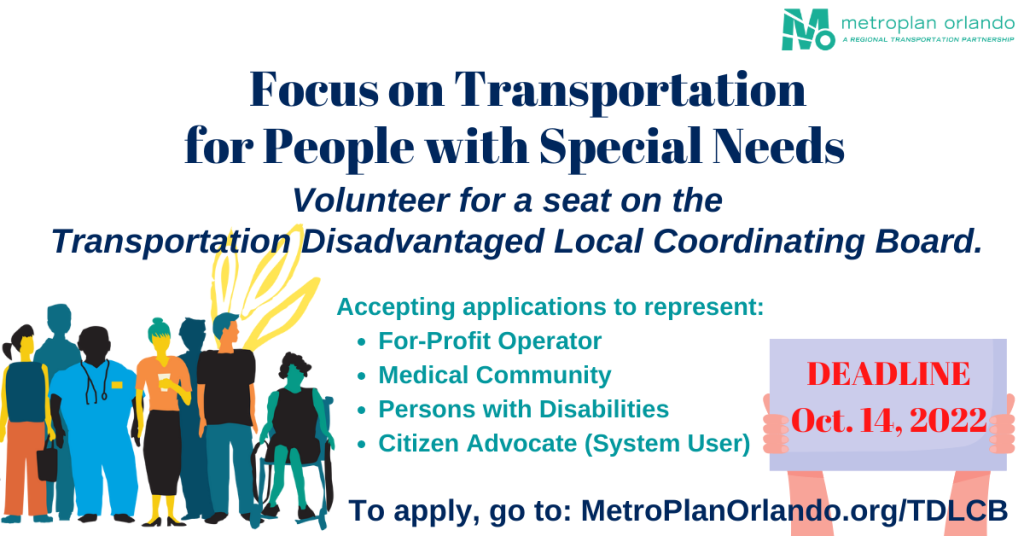 Are you interested in improving transportation for the most vulnerable members of our community – the elderly, disabled, or economically disadvantaged? MetroPlan Orlando is taking applications for several seats on the Transportation Disadvantaged Local Coordinating Board (TDLCB).
The TDLCB coordinates transportation needs of the physically challenged and economically disadvantaged in Orange, Osceola, and Seminole counties through ACCESS LYNX. People in these volunteer positions attend quarterly meetings and have materials to read and evaluate in between meetings. The application form is available at: MetroPlanOrlando.gov/TDLCB
We are currently accepting applications for: Citizen Advocate (System User), For-Profit Operator; Medical Community Representative; and Representative for Persons with Disabilities. Applicants for the Medical Community Representative seat may come from organizations including, but not limited to, kidney dialysis centers, long-term care facilities, assisted-living facilities, hospitals, local health departments, or other home and community-based services.
Composed of representatives from local governments and transportation providers, as well as private citizens, the primary responsibility of the TDLCB is to evaluate service provided by ACCESS LYNX. The TDLCB reviews price, service levels, safety, eligibility and other pertinent issues. Click here  to learn more about the group.
How to Apply
Persons interested in any of these positions should fill out the online application by noon Oct. 14, 2022. Find the TDLCB Membership Application at MetroPlanOrlando.gov/TDLCB.
Alternatively, you can print the form and send it to arrive by Oct. 14 via email to TDLCBapplication@MetroPlanOrlando.gov or by mail to:
MetroPlan Orlando, ATTN: TDLCB Application, 250 S. Orange Ave., Suite 200, Orlando, FL 32801
Questions? Contact Virginia Whittington, Director of Regional Partnerships, at TDLCBapplication@MetroPlanOrlando.gov.