Best Foot Forward Coalition Expands to Seminole County
Posted on: October 2, 2019 in Complete Streets, Safety, Transportation News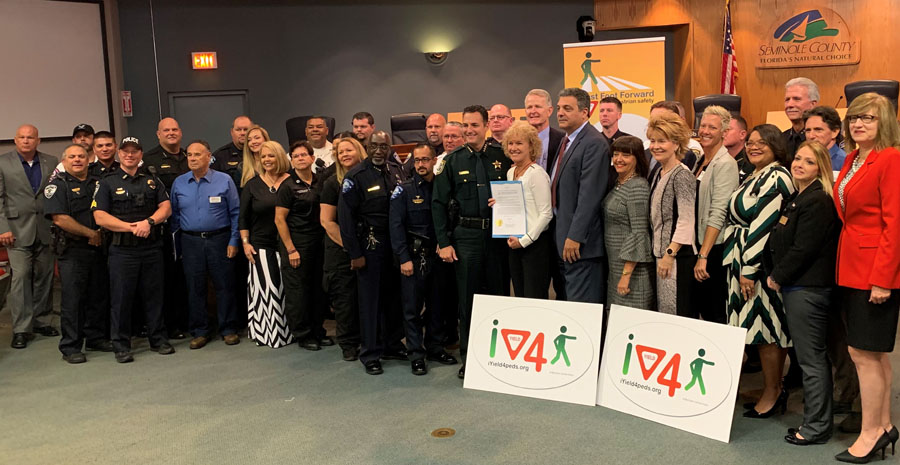 Launch Event Brings 17 Partners Together to Build Support for Pedestrian Safety Effort
The Best Foot Forward coalition has brought its campaign to make Central Florida streets safer for pedestrians to Seminole County.
To kick off the expansion, a ceremony was held in conjunction with International Walk to School Day that highlighted the importance of safety efforts to protect the region's most vulnerable road users. Two special guests joined representatives of the coalition's new partner agencies to talk about the trauma and loss they experienced as a result of pedestrian and cyclist crashes.
Guests were welcomed to the event at the Seminole County Commission chambers by Bob Dallari, a county commissioner who is also vice-chairman of the MetroPlan Orlando Board. Our Executive Director Gary Huttmann re-iterated MetroPlan Orlando's support for Best Foot Forward and reminded participants that drivers and pedestrians all make mistakes, "but we shouldn't have to pay for those mistakes with our lives."
The 17 partners in Seminole County include the county government, the sheriff's office, six cities and their respective police departments, Seminole County Public Schools, Seminole Crossing Guards, and the Florida Dept. of Health in Seminole County. They join 21 existing partners in Orange and Osceola counties, making Best Foot Forward (BFF) one of the largest grassroots coalitions in the country working to lower pedestrian fatalities and injuries.
In 2019, the Orlando-Kissimmee-Sanford metro area was ranked as the most dangerous place to walk in the nation. Last year in Seminole County alone, 147 people were struck by drivers and six were killed while doing something as simple and necessary as crossing the street.
Best Foot Forward's objective is to increase driver yielding behavior at marked crosswalks, which encourages people to use crosswalks. BFF uses a "Triple E" approach that combines community education, low-cost engineering and high-visibility enforcement to incrementally change driver and pedestrian behavior. Before the launch, officials in Seminole County had already been working for months to identify crosswalks to monitor and enforce.
More information about the coalition is available at the website: www.iyield4peds.org.
Watch the video:
• Seminole County Best Foot Forward Launch (2 min.)