Corrine Drive Report Posted in Advance of May 1 Meeting; Comment through May 31
Posted on: April 26, 2019 in Complete Streets, Safety, Transportation News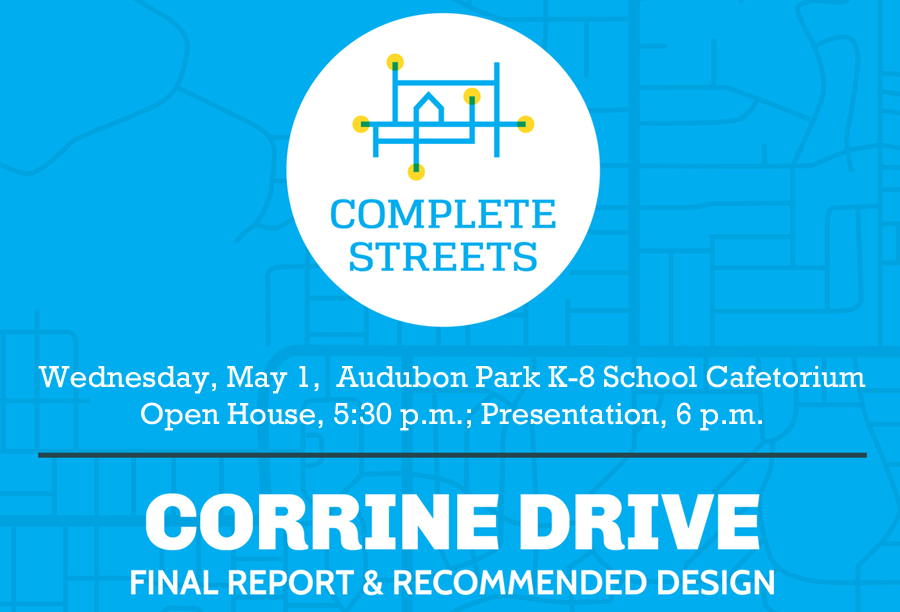 Since early 2017, the Corrine Drive Complete Streets Study has focused on identifying a street design that better serves the community. Now, we think we have it.
The study's final report, which contains the recommended new design for the road, is posted here. We'll share more plan materials, as well as a link to a public opinion survey, after a community meeting is held to discuss the plan. The public comment period on the plan will run through the month of May.
MetroPlan Orlando will present the recommended design for Corrine Drive at a community meeting from 5:30-8:15 p.m., on May 1 in the Audubon Park K-8 School (1500 Falcon Drive). The meeting will include time to review displays, a presentation on key features of the proposed design, and time for members of the public to speak.
The recommended design for Corrine Drive includes continuous sidewalks, new features for cyclists, a street design that can slow speeds and improve safety, along with more trees for shade and appearance. MetroPlan Orlando – working with Orange County, Orlando, and Winter Park governments – is finishing the Corrine Drive Complete Streets Study and exploring next steps for funding and implementing the plan through a local government.
After the May 1 meeting, we'll accept public comments, via an online survey, through May 31. We'll also be available to answer questions and discuss the recommended plan with community groups throughout May. Then we'll summarize the results and hand the project over to local governments to secure funding and oversee the remainder of the design and construction work.