How Are We Doing? Be Part of Our Federal Certification with USDOT
Posted on: March 4, 2019 in Transportation News
Have you ever wanted to share your thoughts on transportation issues with representatives from the U.S. Department of Transportation (USDOT)? Here's your chance!
Every four years, MetroPlan Orlando undergoes an important federal certification process to confirm that we are following all laws and regulations for transportation planning. The USDOT team will be visiting us on March 5, 2019 to conduct our review, which is required by federal law.
As part of that review, they'd like to hear from the public – that's you! The comment period will be open from March 5-April 5, 2019. This is your opportunity to provide input on transportation policies and MetroPlan Orlando's work. All public feedback received by April 5 will be sent to the USDOT federal team for consideration when they write our certification review report.
You can comment on how we're doing in several ways, including an email to: comment@metroplanorlando.gov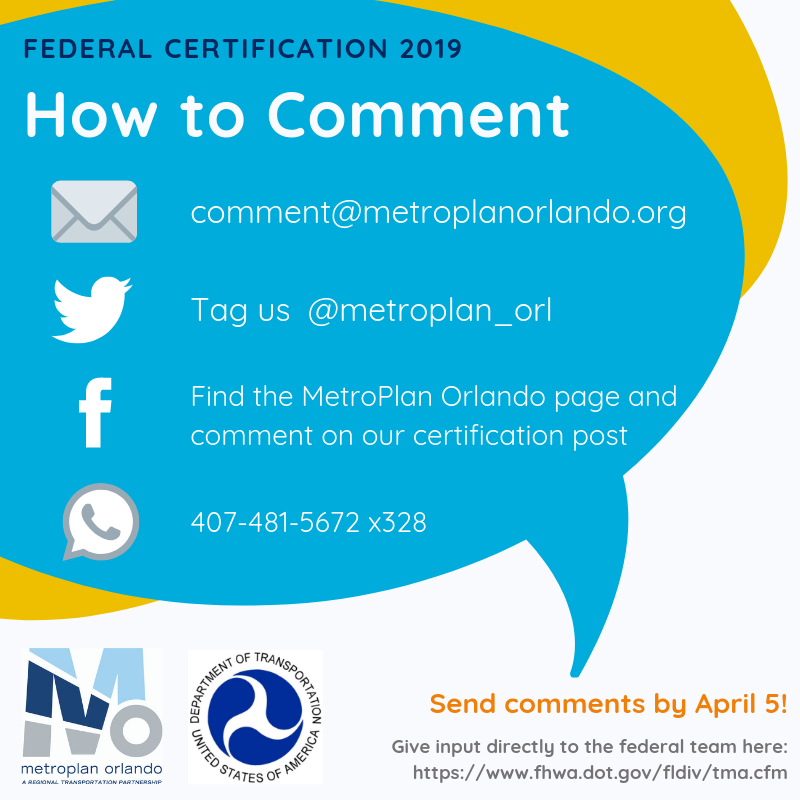 Questions? Contact any of the people below:
Cynthia Lambert
Public Information Manager
MetroPlan Orlando
407-481-5672 x320
Cynthia.Lambert@MetroPlanOrlando.gov
Teresa Parker
Transportation Planning Specialist
Federal Highway Administration (FHWA)
407-867-6415
Teresa.parker@dot.gov
Robert Sachnin
Community Planner
Federal Transit Administration (FTA)
(404) 865-5606
robert.sachnin@dot.gov
Lopez, Luis D.
Environmental Specialist and Interim Planning Programs Coordinator
Federal Highway Administration (FHWA)
407-867-6420
Luis.D.Lopez@dot.gov
You can also submit comments directly to the federal team here: https://www.fhwa.dot.gov/fldiv/tma.cfm
**
Public participation is conducted without regard to race, color, national origin, sex, age, disability, religion, or family status. Persons wishing to express concerns, who require special assistance under the Americans with Disabilities Act, or who require language services (free of charge) should contact MetroPlan Orlando by phone at (407) 481-5672 or by email at info@metroplanorlando.gov at least three business days prior to April 5.
La participación pública se lleva a cabo sin distinción de raza, color, origen nacional, sexo, edad, discapacidad, religión o estado familiar. Las personas que deseen expresar inquietudes, que requieran asistencia especial bajo la Ley de Americanos con Discapacidad (ADA) o que requieran servicios de traducción (sin cargo) deben ponerse en contacto con MetroPlan Orlando por teléfono (407) 481-5672 (marcar 0) o por correo electrónico info@metroplanorlando.gov por lo menos tres días antes del 5 de abril.