SunRail: Full Speed Ahead for Commuter Train
Posted on: July 18, 2011 in Transportation News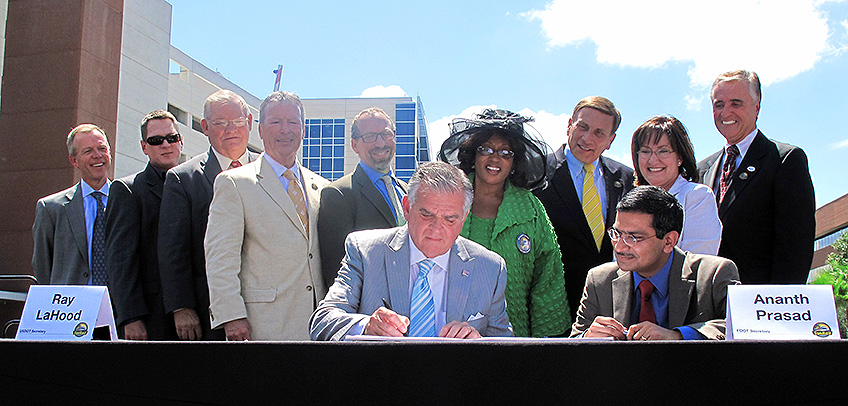 It's a project nearly a decade in the making.  Now, following extensive planning, unanimous approval by local funding partners, and 460 official meetings/public hearings, SunRail is officially moving forward.  Federal, state, and local leaders joined hundreds of community supporters at a celebration in mid-July to officially kick-off the project.
"This is as significant as when Henry Flagler brought the railroad to Florida and when President Eisenhower initiated the Interstate," said U.S. Rep. John Mica, who serves as chairman of the House Transportation Committee.
Community Effort
Securing a full funding grant agreement between the state and Federal Transit Administration required more than just planning.  Members of the Central Florida Commuter Rail Commission, which includes elected officials from Orange, Osceola, Seminole, and Volusia Counties, and the city of Orlando, worked in partnership with civic organizations and citizens to support the project for years.
"This community worked relentlessly to advance a vision for SunRail as a critical first step," said Orlando Mayor Buddy Dyer, who also serves on the Central Florida Commuter Rail Commission and MetroPlan Orlando Board. "This is an effort to give our residents desperately needed transportation alternatives."
Community Impact
The 61.5-mile project includes two construction phases. The first segment, operational in late 2013, will connect DeBary in Volusia County to Sand Lake Road in Orange County. Phase two will extend service south to Poinciana and north to DeLand, offering service in 2015.
Though the project offers transportation alternatives, U.S. Transportation Secretary Ray LaHood noted the future impacts are far reaching, adding "…more people can leave their cars at home, give their kids cleaner air to breathe and reduce our dependency on foreign oil."
Additional development and future job growth are also anticipated, providing an economic boost for the state, region, and areas surrounding each commuter rail station.
"Transportation and infrastructure funding is absolutely critical to economic development," said U.S. Rep. Corrine Brown.  "An analysis of the project identified 10,800 direct jobs created and an estimated 150,000 future jobs tied to transit-related development."
Next Steps
As SunRail takes shape, planning work continues on future transit projects throughout the region.  "This milestone is about so much more than SunRail," said Seminole County Commissioner Bob Dallari, who also serves as chairman of the MetroPlan Orlando Board.  "SunRail is like a backbone for a future, comprehensive transit network."
That future network requires ongoing support from the public and private sectors. Outreach efforts are already underway with employers and businesses in proximity to the commuter rail line to encourage access and incentives.
"For SunRail to work, there has to be a real buy-in for ridership," says Orange County Mayor Teresa Jacobs, who also serves on the MetroPlan Orlando Board.  "One of the positive outcomes of this collaborative process is support from local businesses who have already committed to identifying a plan to promote ridership."
As construction begins in the coming months, the countdown until the first SunRail train leaves the station is officially underway.