Tracking the Trends Shows How Regional Transportation Has Changed
Posted on: July 11, 2014 in Transportation News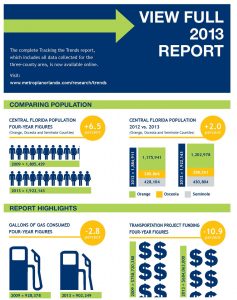 Each year, MetroPlan Orlando collects data from federal, state, and local sources to evaluate trends affecting the region's transportation system.  Results are compiled in Tracking the Trends: A Transportation System Indicator Report for the Orlando Metropolitan Area.  The latest report analyzes data through the year 2013 and is shaped by several underlying themes:
Economic Recovery – The area has seen a tourism rebound, with record-breaking numbers of visitors – resulting in busy roads and rental car counters in the tourist corridor. On the home front, travel trends are less robust, as the area inches back toward pre-recession employment and leisure travel levels. Long-term trends point toward a decrease in vehicle miles traveled, as well as lower gasoline consumption. Unemployment, transit ridership and fuel-efficient vehicles all play roles in that trend.
Transportation Funding – After dramatic drops during the recession, federal, state and local governments have increased project funding and slowed the decline seen in recent years. The area's toll revenues have continued to rise, as toll roads see more traffic. Fuel tax revenues have leveled off — due to a slowing economy coupled with increased fuel efficiency in vehicles. The fuel tax numbers show that this is not a sustainable source of revenue for transportation.
Safety – Making the transportation system safer for cyclists and pedestrians has been a concern across the region. Meanwhile, reducing the number of vehicle crashes remains a challenge. Automobile fatalities have decreased somewhat, thanks in part to automobile technology advances. However, pedestrian and bicyclist fatalities continue to be a major concern.
Read the full report below.